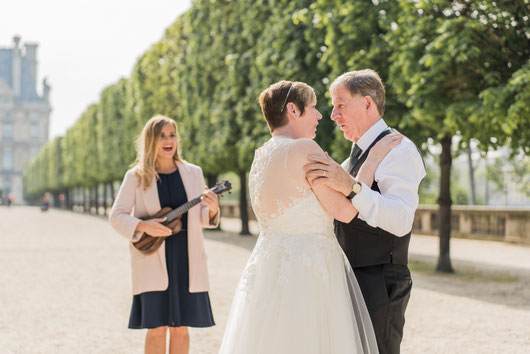 Are you planning to get married in Paris very soon? Do you want to plan a beautiful elopement ceremony in Paris, perhaps near the Eiffel Tower? You have hired an officiant and a photographer to keep some gorgeous memories of this important moment of your life, and now you are thinking about the missing element of your ceremony: music! As a singer and ukulele player, I can offer my services for your elopement in Paris: by performing your favorite songs at the beginning and at the end of the wedding ceremony, you will have the most magical and romantic elopement in Paris.

We already talked about the beginning of the ceremony, but the ending is also crucial! After this emotional moment, after exchanging vows, it is very nice to take the time to enjoy this moment and not rush into the register signing: without music, it will be a bit cold and also very short! By having a musician at the end of the ceremony, you will really mark your commitment to each other... and realize it ;)
Usually, what I recommend is to use this final song as a first dance: you don't need to move a lot, but being close to your loved one will really make of this moment the most beautiful seconds of the day. And it will make some incredible photos too!
Here are some examples of songs that the couples getting married in Paris often ask me:
- Stand by me (Ben E. King)
- L. O. V. E (Nat King Cole)
- Marry you (Bruno Mars)
- La vie en rose (Edith Piaf - English or French version)
- Halo (Beyoncé)
- Crazy in love (Beyoncé)
- Just the way you are (Bruno Mars)
- Yellow (Coldplay)
If you have another idea, a song which is very dear to your heart, don't hesitate to tell me about it! Please contact me for more info.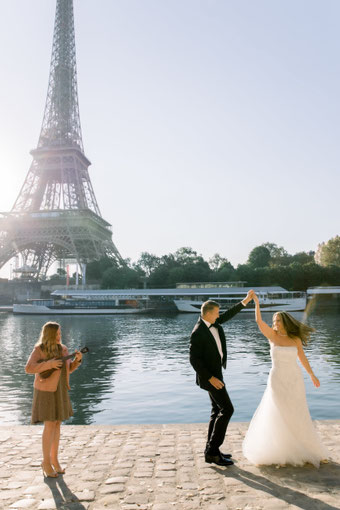 You are planning your elopement and your wedding in Paris, and you are looking for a singer, a musician to perform for your elopement and your wedding in Paris? I can help you to make your dream come true! With music as the special ingredient, I will help you to create a beautiful moment, by singing during your elopement ceremony, your wedding ceremony. A wonderful location, a singer and your loved one: the perfect celebration of your love!