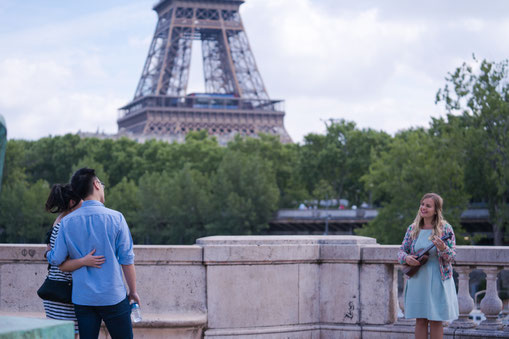 When clients contact me in order to help them to plan the perfect proposal in Paris, they often are looking for a unique idea, an original way to propose, which is not too conventional and will be unforgettable. A French musician singing a favorite love song is a very romantic idea, isn't it? 
Usually, they ask me how it works, how do they come to me, how do they have to react, etc. Good news, there are many ways to do so! Another good news is that I am here to help my clients all the way until proposal day: I can advise and make suggestions, after that they choose how they want to plan this important day. 

The most common way to plan the proposal with me is if I act as a street musician, a regular singer playing in the Parisian streets. I always ask for the couple's photo in advance, so I can recognize my clients when they arrive. They are usually walking around, visiting Paris- and when they arrive towards me, I start singing: almost all the time, the surprised one will understand that something is up, because I am singing their favorite song! This first song is therefore the 'surprise', and allows to set the tone, to create the little love bubble instead of proposing with the silence as background ;)
After this first song, I take a few steps back to let them have their private moment: usually, it is a little speech and of course... the proposal in Paris! And I come back for a second song as they enjoy the celebration of their engagement in Paris :)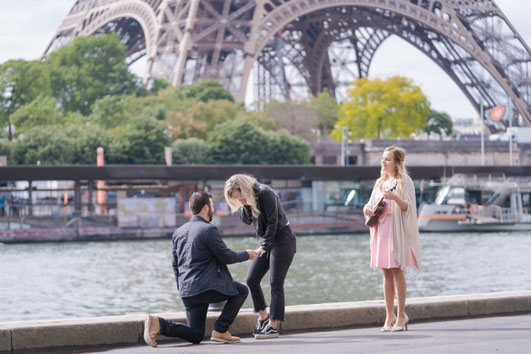 Another way to do it, is to plan a little game with the photographer, and act as actors! When the couple arrives, we (the photographer and the singer) act as is we are having a photoshoot. The photographer speaks to the couple and ask them if they are tourists, if they are a couple, and if they would agree to be part of our photoshoot in order to help me, a local artist ;)
Of course, they agree since one of them already knows the plan! The photographer guides them through a few minutes of the photoshoot and asks at some point 'are you married?', 'would you mind pretending to propose to your partner?', and when our client puts his knee down... I start singing their favorite song! Usually, it is a big surprise and a very emotional moment.
Finally, another scenario I was asked to do is a very special one in Montmartre. I bring my wood easel, usually used to paint, and I print a text asked by a client: it is their love story! They are walking around Montmartre, and then they arrive towards me, a street musician and an easel randomly placed in a beautiful and quiet street. He encourages her to read the text on the easel, and she slowly understands... that it is their love story, and that it is a surprise for her! This is also very romantic, and also very original: you can be sure that it will be a very unique proposal! What a beautiful way to get engaged in Paris, isn't it? :)
Do you have other ideas, other wishes to propose in Paris? Please contact me and we will discuss your proposal plans together!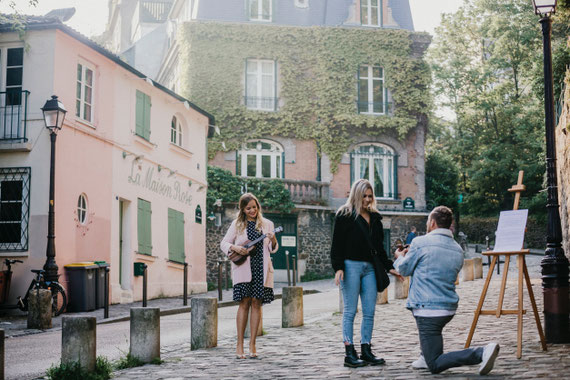 You are preparing your proposal in Paris? We can help you to make your dream come true! With music as the special ingredient, I will help you to create a beautiful moment, by singing before you propose. A wonderful location, a singer and your loved one: the perfect celebration of your engagement!