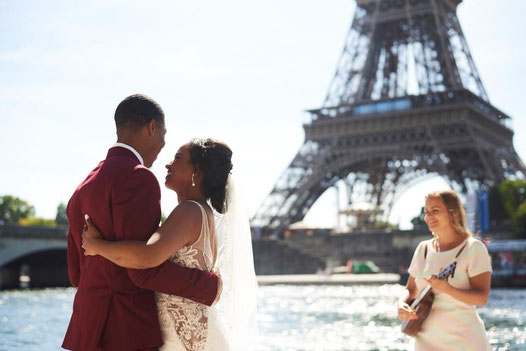 When it comes to planning an elopement in Paris, a small and intimate wedding in Paris, we always think about the obvious: who is going to officiate the elopement ceremony? Which photographer is going to capture the ceremony, and take the wedding photos afterwards? And maybe, do we need a videographer? We usually do not think about a musician at first... However, music can be crucial in order to really mark the moment and allow you to enjoy this moment. It also helps to create a 'true' wedding ceremony in Paris, for example with a first song!
As a singer, I offer to sing a first song with two options: you can really make an entrance, with the bride walking to the groom while I am singing your favorite song. Or you can also just stand in front of each other, and just feel the magic of this moment. Both are always very emotional! This first song will set the tone and create the romantic atmosphere you are looking for when eloping in Paris. It is the little extra which will make your ceremony perfect!
Here are some examples of songs, which are perfect to start your elopement in Paris: I can't help falling in love with you (Elvis Presley), Your song (Elton John), Perfect (Ed Sheeran), A Thousand Years (Christina Perri), All of me (John Legend), Halo (Beyoncé)...
If you want to know all about my services and the songs I could play for your elopement, please contact me!
Can't help falling in love with you
You are planning your elopement and your wedding in Paris, and you are looking for a singer, a musician to perform for your elopement and your wedding in Paris? I can help you to make your dream come true! With music as the special ingredient, I will help you to create a beautiful moment, by singing during your elopement ceremony, your wedding ceremony. A wonderful location, a singer and your loved one: the perfect celebration of your love!