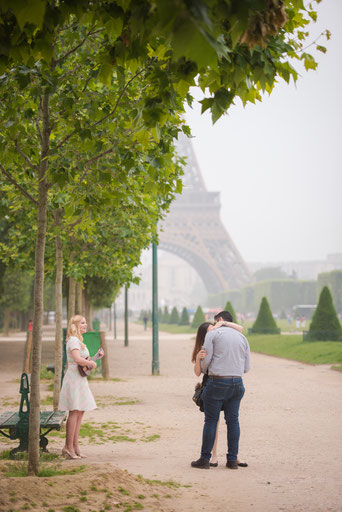 You are planning to come to Paris in a few weeks, and you would like to propose to your partner while you will be staying in the most romantic city in the world? We agree: this is a fantastic idea! Paris is the perfect background for this very important moment of your life.
However, when you don't know well a big city such as Paris, it might seem a bit hard to find your way and plan the perfect proposal in Paris. This is when having a vendor you trust, who will know the place, will help you to plan the proposal you have always dreamt of!
As a singer and entrepreneur, I help my clients daily planning their events. Since I am part of more than a hundred events per year, and dozens of proposals, I can help you and give you suggestions for every aspect of your proposal. Of course, these are just suggestions ;)
But my role goes often beyond 'just' singing!
Therefore, I thought that I would give you 5 tips to plan your proposal in Paris- for more, don't hesitate to contact me directly!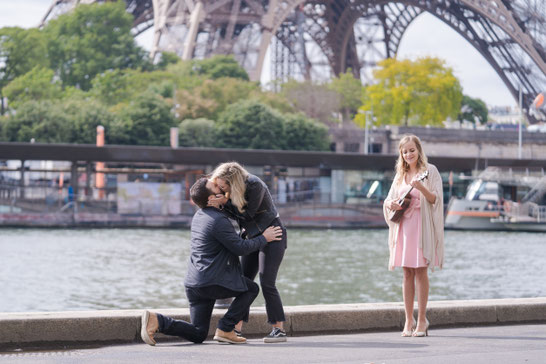 1. The location
Choosing the location of your proposal can be a bit difficult: between what you see on social media and the 'real' Paris, there is often a big difference! For example, the Trocadéro is really nice, but often quite busy and crowded. That is why it might not be the ideal spot for a proposal, because you won't have any intimacy and the risk is that it won't be as romantic as you would want it to be. Every time a client reaches out to me, I help him or her to determine the best option, depending on his initial wish: for example, with a view over the Eiffel Tower, or in Montmartre, or in another iconic Parisian spot.
2. The hour 
Just like the location, it is very helpful to have a vendor in Paris, who will be able to help you pick the right hour to set your proposal in Paris. Usually, everyone wants the same hours, especially at sunset. However, sunset is really hard because the city is very busy at this time of the day. Thus, you would be surrounded by tourists, and there would be a lot of noise around too. This is not the perfect plan for a surprise proposal! This is why we choose the hour depending on the location: if your location is very popular, I always suggest to plan the proposal early in the morning, at sunrise. There will be less people around, and the light will be beautiful for the photos.
3. The scenario
This is where my performance could help you plan the perfect proposal in Paris! Usually, for a 'regular' proposal, the couple arrives somewhere, and directly the proposal happens, without any signs before. It might appear a bit cold, you won't have the time to be 'in the mood' and your partner won't have the time to realize what is happening- and therefore, may not have the time to make memories of this moment because it is happening too quickly. With my performance as a singer and ukulele player, I appear as a street musician when the couple arrives, and I start singing when they are near me: then, the surprised one will know that something is happening! The choice of the song is really important, and usually the emotion starts right there ;) Music is the magical ingredient, and helps create the perfect bubble before the proposal!
4. The vendors
Choosing the right vendors for your proposal can seem difficult, because there are a lot of people offering these services in Paris, for all kinds of prices. In addition to my musical performance, I often recommend great photographers to my clients, and even videographers. I work with a lot of vendors, who are very professional and talented. It is very important to trust your vendors, because this day is going to be very important- and for a proposal, everything needs to be perfect since it is a surprise!
5. The plan 
When you surround yourself with the right vendors, such as a singer and a photographer (just an example, of course!), you will get the best plan for the day of your proposal. We will set every detail together, so that you will know exactly what to do on D-Day. There will be no hesitation! This can be very reassuring, because planning a proposal in an unknown city can already be a little stressful for the client. When you are guided and in constant contact with your vendors, this is a big relief!
Did these tips help you to envision your perfect proposal in Paris? If you need more information about my performance for your proposal in Paris, please contact me and ask me all your questions! I will be very happy to be part of your engagement in Paris.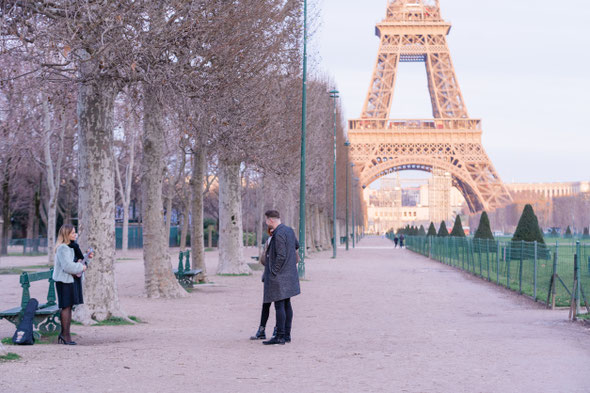 You are preparing your proposal in Paris? We can help you to make your dream come true! With music as the special ingredient, I will help you to create a beautiful moment, by singing before you propose. A wonderful location, a singer and your loved one: the perfect celebration of your engagement!