Let's be clear: most people, when they come to Paris, want to see the Eiffel Tower. And when it comes to getting engaged in Paris, or getting married in Paris, it is the same thing! The majority of my clients want the Eiffel Tower in the background for their proposal, their elopement or their vow renewal in Paris- and I completely understand them, since I am myself a big fan of it (and I can't help myself, I take photos of it every chance I get, even if I have been Parisian for more than 12 years...). 
However, I always recommend other locations for people who would want more atypical sceneries, unusual but still very Parisian settings. It might be less obvious, but it is still so Parisian and so romantic!
Here are 3 locations that I love for a proposal, an elopement or a vow renewal in Paris, outside of the Eiffel Tower ;)
1. Montmartre
Of course, I have to tell you about Montmartre? If you already know this place, you know why I put it first in this article! Located north of Paris, in the 18th arrondissement, it is the most charming and intimate neighborhood of Paris- and also, one of the most historical areas of the city! A lot of artists, especially painters, lived there, and it still feels like a village. Montmartre is perfect for an intimate proposal, for example near the famous Maison Rose (as shown on this photo). 
However, Montmartre is always very crowded with tourists, I would therefore recommend to plan the proposal very early in the morning.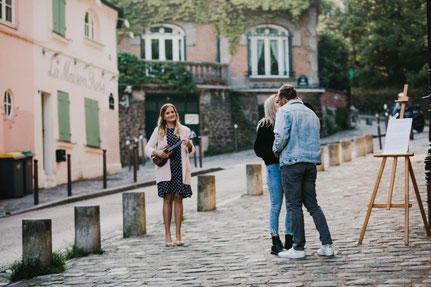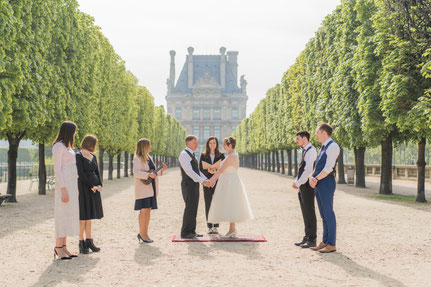 2. The Tuileries garden
Near the Seine river, in the center of Paris, is located a very large park: the Tuileries garden. It is one of the most popular parks of Paris, but we have some tips to get an empty location (as I always say: come early in the morning and you will be alone!). 
This location is really beautiful, with the perspective and the beautiful Parisian building behind. It is also very convenient, because it is located near many nice spots for a photoshoot afterwards (after a proposal or an elopement for example): the Louvre pyramids are right behind, the Seine River and the Eiffel Tower are a few minutes away...
3. The Pont Alexandre III .. or in English, the Alexander III Bridge ;)
I really love this location, for several reasons! First of all, it is not an obvious view of Paris, but it is still very Parisian and very recognizable. The architecture alone tells you that you are in Paris. Furthermore, it is very intimate- people are passing by when walking around Paris, but it is not a popular and crowded place as you can sometimes find in Paris. And finally, what you don't see on this photo is that when you turn on the other side, there is the Eiffel Tower in the background! So this is perfect for photos after the proposal or the elopement, because you will still have the Eiffel Tower ;)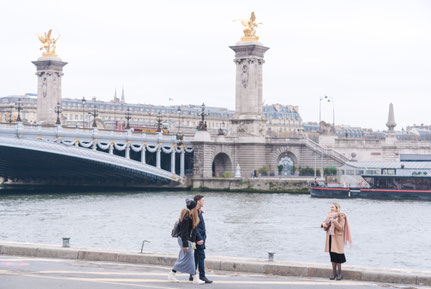 Did you see a location that you would like for your proposal, your elopement, your wedding, your vow renewal in Paris? If not, I can suggest more!
Don't hesitate to contact me for more info about my services as a singer for your proposal & your elopement in Paris.
You are planning your proposal, your elopement, your wedding, your vow renewal in Paris? We can help you to make your dream come true! With music as the special ingredient, I will help you to create a beautiful moment, by singing before you propose or during your elopement, wedding or vow renewal. A wonderful location, a singer and your loved one: the perfect celebration!