When I am planning the proposal, the elopement or the vow renewal of my clients, I offer my services as a local to guide them and help them choose the right location for their event. Is is very important to find the perfect spot for this important moment!
I always ask if they have an idea of the location they would like to propose or get married at, and very, very often they answer: the Eiffel Tower! Of course, this monument is THE place everyone loves in Paris, because it is so iconic in the City of Love. However, it is sometimes hard to find a location near the Eiffel Tower which would not be crowded... For that, I suggest the best hours to my client, and help them have the perfect proposal / elopement / wedding / vow renewal they are looking for.
Here are 5 locations with a view around the Eiffel Tower (which are free!):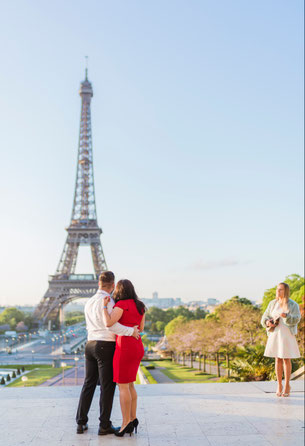 1. The Trocadéro
Closed for years because of some works, the Trocadéro has now reopened! However, you have to be very early in order to enjoy it without all the tourists, and have the place to yourself... But we can discuss it together ;)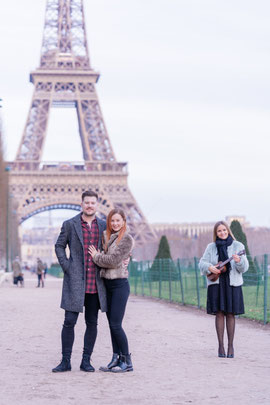 2. The Champ-de-Mars
It is the park located behind the Eiffel Tower, on the left bank. In the morning, it is very quiet and perfect for a proposal for example!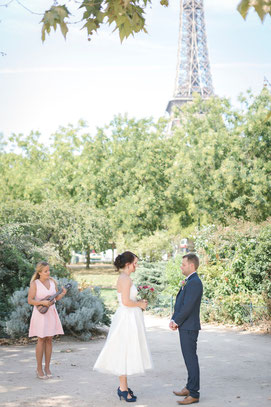 3. The Champ-de-Mars gardens
Less famous and more intimate, this location is ideal in spring and summer, because the trees give this green feeling, with the Eiffel Tower in the background.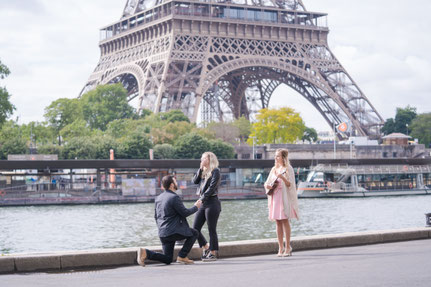 4. The Quai de Seine
Getting more and more popular these days, this location is right in front of the Eiffel Tower. It is perfect for an elopement or a wedding ceremony, because it is quiet and not too crowded, especially during the day.
However, at the end of the day there are a lot of proposals, so we can discuss together the perfect time to plan your event.
1. The Bir-Hakeim Bridge
Another very popular location around the Eiffel Tower is the Bir-Hakeim Bridge, which has been shown in many movies. In the middle of the bridge, there is a platform with a direct view over the Eiffel Tower! It is often crowded, therefore the perfect time to have a quiet moment there is early in the morning ;)
If you have a particular idea, I will help you plan the perfect proposal, elopement, vow renewal or wedding Paris!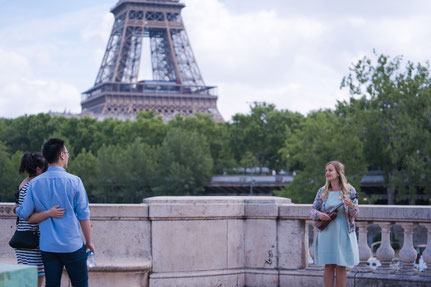 You are planning your proposal, your elopement, your wedding, your vow renewal in Paris? We can help you to make your dream come true! With music as the special ingredient, I will help you to create a beautiful moment, by singing before you propose or during your elopement, wedding or vow renewal. A wonderful location, a singer and your loved one: the perfect celebration!