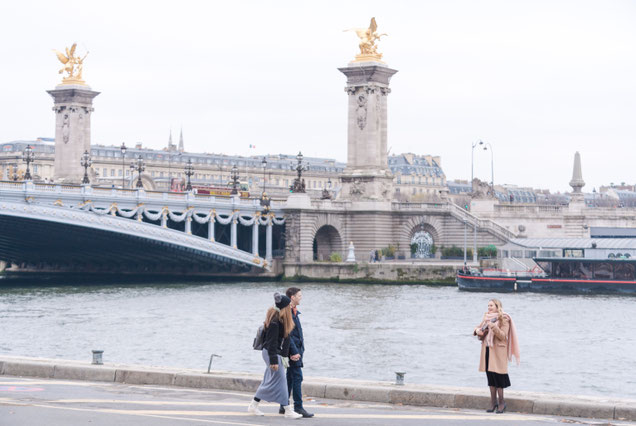 Last December, I was very lucky to be part of a very romantic proposal in Paris! 
A few weeks before, Adam contacted me because he was planning a weekend in Paris with his girlfriend Louise, and he thought it was the perfect opportunity to propose to the love of his life. Living in the British countryside, it was the perfect occasion while they were visiting the City of Love! Adam really wanted a unique proposal, which would be very surprising, but intimate at the same time. Since they both have a passion for music, Adam found me and contacted me right away. He hired me as a singer and my dear colleague Lindsey from Pictours Paris as a photographer to capture everything, and we planned everything together.

He chose a very nice location, which is always empty because it is less traditional, however I really love it! It was located near the Alexander III Bridge, in the heart of Paris. What is really amazing with this spot, is that you have the Pont Alexandre III on one side, and when you turn around... there is the Eiffel Tower in the back! Therefore, it makes it perfect for a little photoshoot afterwards: even if you don't want the typical view of the Eiffel Tower, you can have it in the back for photos, as a little 'souvenir' ;)
Louise and Adam were walking around Paris, as everyone would do on a weekend in Paris... They were walking near the Seine river, when they saw a street musician playing the ukulele on the bank... me! When they arrived towards me, I started singing one of their favorite songs, 'Yellow' by Coldplay. Louise immediately understood something was going on, and they enjoyed listening to the song. Then, I took a few steps away from them... Adam gave a little speech, and he got down on one knee... and proposed!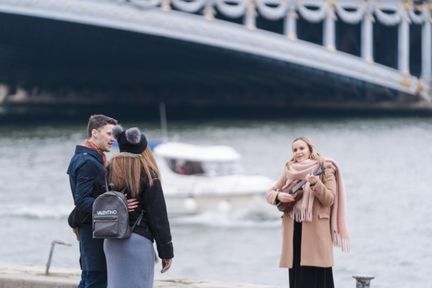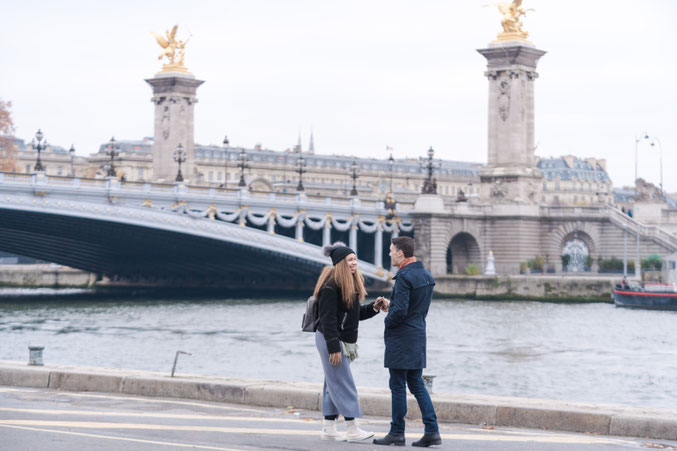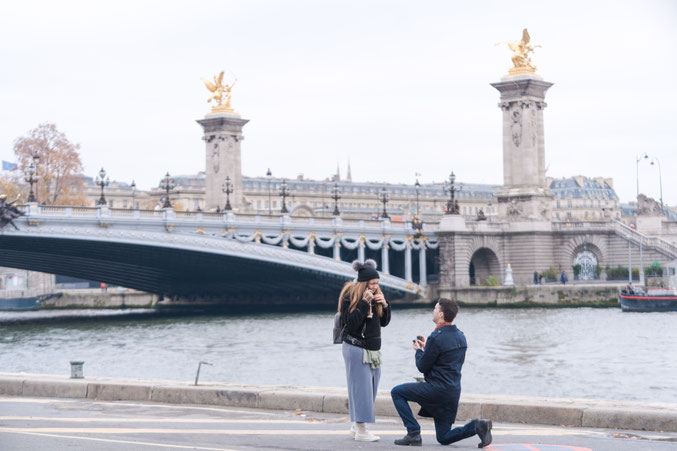 And then... she said yes!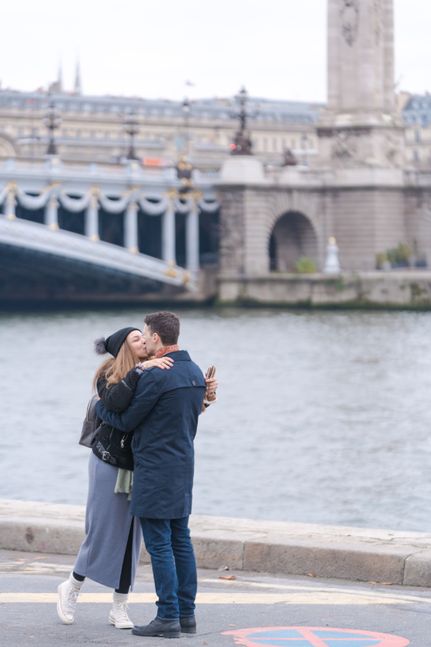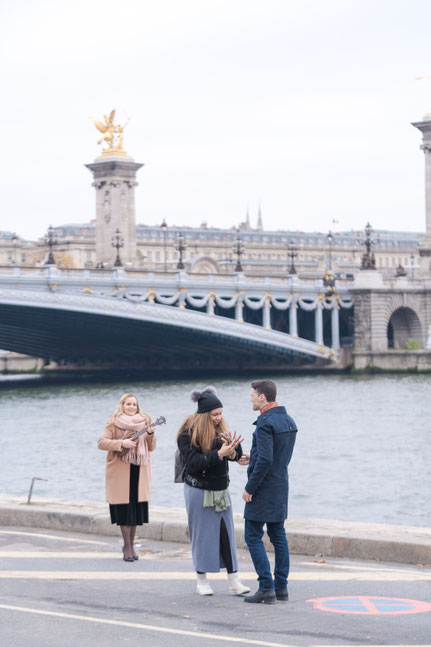 After she said yes, I came back for a second song- Adam chose 'Halo' by Beyoncé, one of Louise's favorite artists. They got to enjoy this moment and their engagement with this song, in their little bubble :)
It was such a beautiful moment, I was very honored to be the singer of this romantic proposal.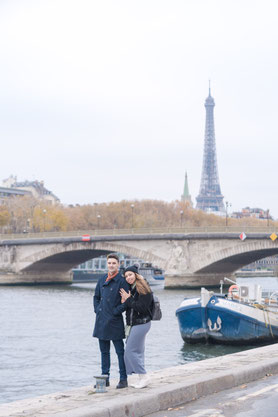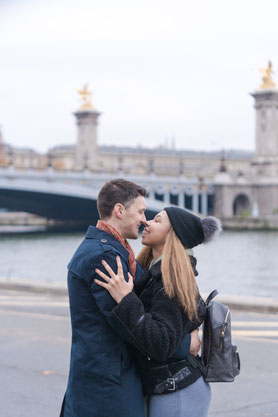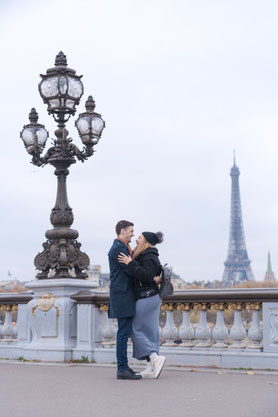 Congratulations Louise & Adam!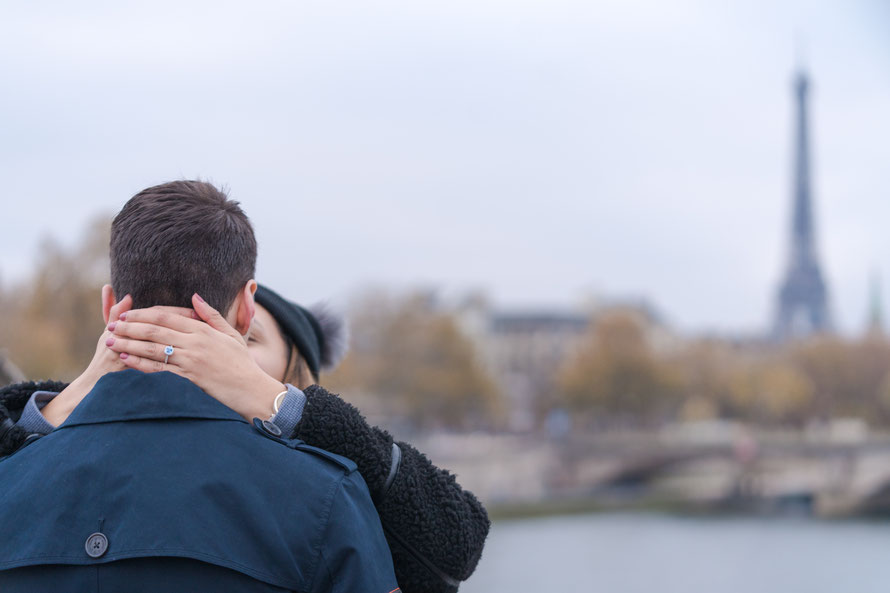 You are preparing your proposal in Paris? We can help you to make your dream come true! With music as the special ingredient, I will help you to create a beautiful moment, by singing before you propose. A wonderful location, a singer and your loved one: the perfect celebration of your engagement!