I'm back! After a few years of Covid, after having a baby, after mostly dealing with my other band Orphée, I am ready to focus more on Proposal & Elopement in Paris- Covid stopped everything and I was really sad, because I love singing for proposals and elopements! So today, I would like to give you some advice on how to plan the perfect proposal in Paris- because I have become quite an expert in the past 5 years ;)
Here are 5 things you should care about when planning your proposal in Paris, if you want to do it in the most romantic and atypical way!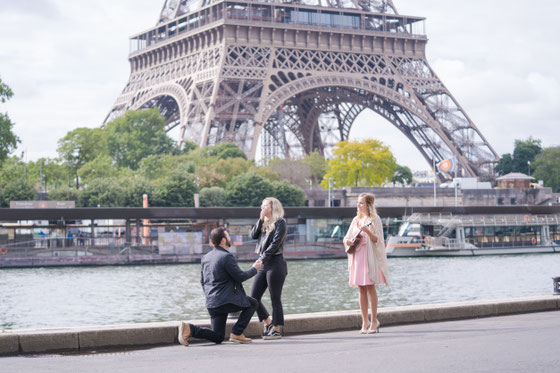 1. the location
Choosing the location is key, and you should first think about the scenery you would want: the Eiffel Tower, Montmartre, a less typical view? Depending on your first wishes, I can suggest some locations for you, in order to avoid the crowds. Very often, there is a big difference between the photos we can see on Pinterest and the reality. For example, many people want to propose at the Trocadéro, however it is always a very, very crowded spot. It is better to have a quieter location for a proposal, because it is not a photoshoot: you and your partner will not be able to wait for the right spot to be empty to propose, it would ruin the surprise ;) It is always easier to have a vendor who lives on site, and who will be able to advise you!
2. the timing
Directly linked to the location is another very important element: the hour of the proposal! As mentioned above, some locations can be very crowded, and the best hours to have a perfect proposal are early in the morning. People are often surprised when I tell them that an early proposal is the best idea, but it really is! Paris is empty, the light is nicer, and you will be fully able to enjoy this moment. Depending on the location you choose, I can suggest the best hour to propose.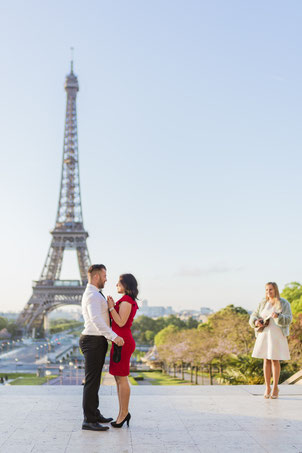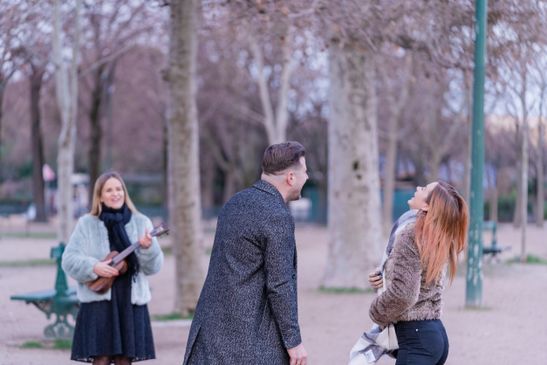 3. the singer
Of course, I will recommend you to choose music for your proposal! Instead of arriving at the location, and directly propose on the spot, in the silence and without taking the time to be in your bubble, music will add the extra magic to your proposal. Usually, I act as a street musician, and when the couple arrives towards me, I start singing their favorite song. At this moment, the surprised one slowly begins to understand that something is going on ;)
At the end of the song, I take a few steps back and let my client do his little speech and then go down on one knee. It is proposal time! After she/he said yes, I come back for a second song: it allows the couple to enjoy a bit longer, and not just stay in the silence. Music is the perfect ingredient to have a very unique proposal!
4. the photographer
Of course, it is always nice to keep some memories of this amazing moment! A good photographer will capture your proposal in Paris and you will be able to look at these photos your whole life. Usually, the photographer is hidden for the first part of the proposal- and after, you can have a few minutes to take couple photos. It is always nice to have these little souvenirs in Paris :) I can recommend some amazing photographers I work with for proposals in Paris.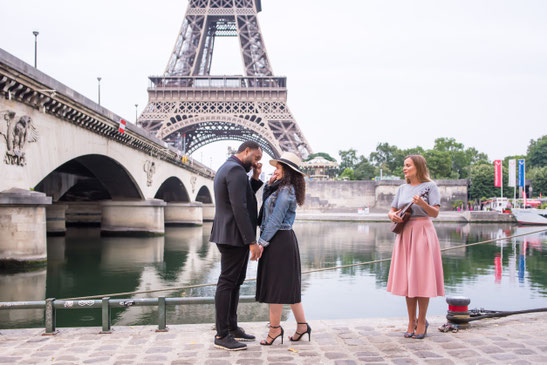 You are preparing your proposal in Paris? We can help you to make your dream come true! With music as the special ingredient, I will help you to create a beautiful moment, by singing before you propose. A wonderful location, a singer and your loved one: the perfect celebration of your engagement!