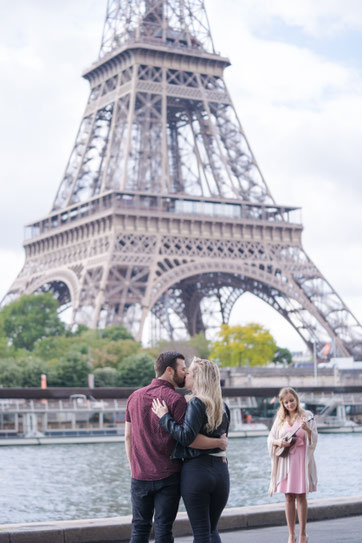 Hi! 
Summer has arrived in Paris, and this season is busier than ever! I am so glad that I have the opportunity to perform for so many beautiful events: elopements, vow renewals, weddings and of course proposals! Saying 'yes' in Paris is such a romantic gesture, and I am always really happy to be part of these unique moments. 

Today, I would like to share with you an amazing proposal which happened in May: A&D's engagement! I was teaming up with the wonderful photographer Lindsey from Pictours Paris, in order to create a fun scenario and play a little game with our future fiancés ;) 
Lindsey and I met on the bank of the Seine river, just below the Eiffel Tower. This location is great because you can enjoy the great view over the Eiffel Tower, while being in a peaceful and not too crowded environment- there is not a lot of people passing by in the morning, contrary to the Trocadéro for example, therefore it is a good idea if you want your proposal to be more intimate!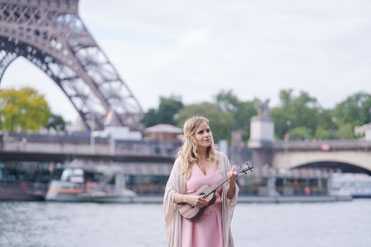 When A&D arrived, we had a plan: they were just talking a walk by the Seine river, just as a 'normal' couple who is visiting Paris! Lindsey and I were taking photos of me playing the ukulele, as if it was a photoshoot just for me. When they arrived, we asked them if it would be possible to do us a favor: we were working on a special project about love and music in Paris, maybe they could help us and pose for the photos? After a brief hesitation, they said yes (and we were relieved!), so we continued the photoshoot with our nice couple...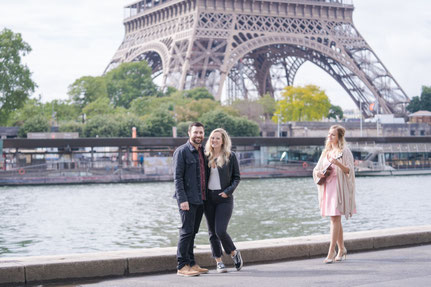 Lindsey was directing them in such a nice way (Actors Studio skills!), and A didn't suspect a thing! Lindsey told them how to pose, kiss and at one point, she asked them very naturally if they were married. Of course, they answered no ;) 
Lindsey asked them if they would agree to pretend to propose just for the photo, because it would help us a lot... and they agreed!
But what A didn't know... is that D had asked me to sing 'their' special song, 'Beautiful Thing' from Grace Wanderwaal! So, while D was getting down on one knee, I started singing the first words... And A understood immediately! Because yes, this song is not so famous so she knew immediately that it was for her. Can you imagine the surprise she had!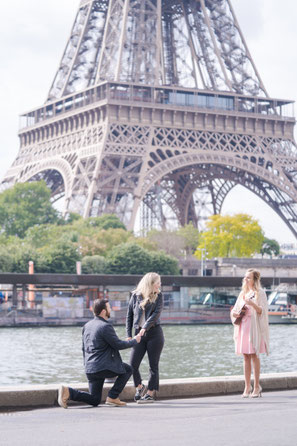 It was such an emotional moment, and a romantic surprise!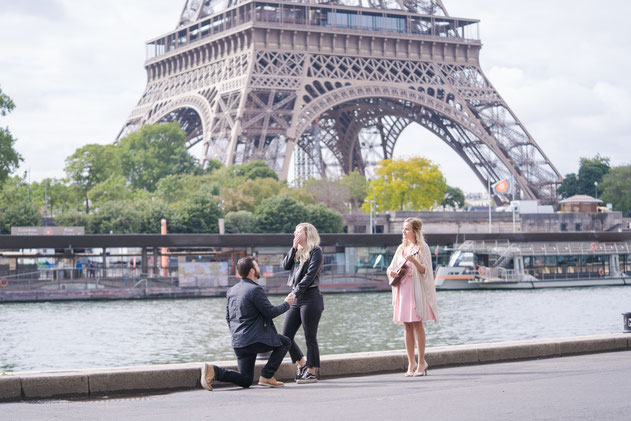 Of course, she said yes! And he put a ring on it ;)
After this moment of surprise and emotion, A&D took the time to enjoy their engagement while I was performing a second song: 'Yellow' from Coldplay. Lindsey was taking some more photos of them to celebrate this joyful moment, and we were so honored to share it with A&D.
I am sure you can see how magical this proposal was thanks to Lindsey's photos, and how happy these two lovers were.
Congratulations A&D!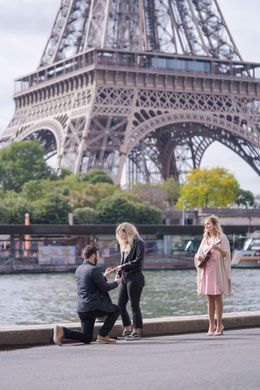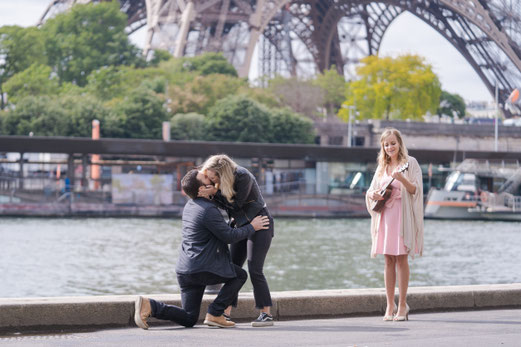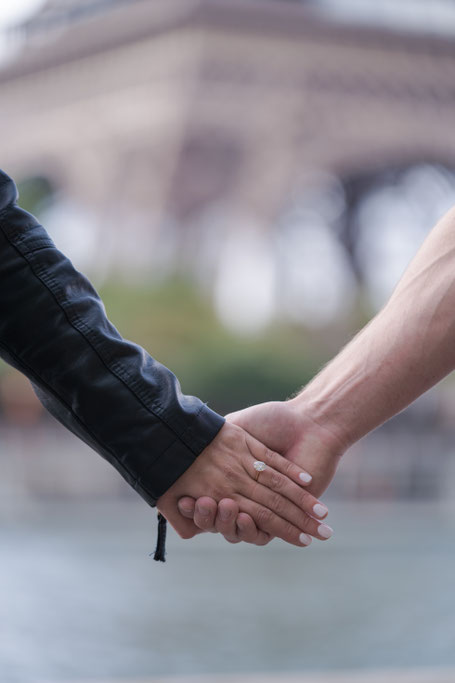 ........................................................................................................................................
You are preparing your proposal in Paris? We can help you to make your dream come true! With music as the special ingredient, I will help you to create a beautiful moment, by singing before you propose. A wonderful location, a singer and your loved one: the perfect celebration of your engagement!