Last August, I had the pleasure of singing for a magical proposal at the top of the Eiffel Tower!
J., the lucky fiancé, had contacted me a few months before, while he and his girlfriend V. were organizing a romantic long weekend in Paris. J. had the idea of proposing at the top of the Eiffel Tower, even if it is not the easiest spot, as a symbolic gesture for his proposal. After a few discussions with the Eiffel Tower's teams, it appears that my little ukulele would not be allowed to go up. Therefore, we decided that I would sing on a soundtrack which was on my phone.
On the day of the proposal, the weather was cloudy and we kept our fingers crossed that the rain would not come... and we were lucky! I was waiting at the top of the Eiffel Tower with Anthony, a video maker who was there to immortalize this big moment, while V. & J. were visiting the iconic Parisian monument.

When they arrived at the top of the Eiffel Tower, we were waiting for them, and J. led V. to us. Then, I started singing the song 'Hallelujah' from Jeff Buckley, which was requested from J. At the end of the song, J. started his speech, proposed and... she said yes! Their engagement was welcomed by a round of applause, because of course, everyone around was watching! It was a very sweet and emotional moment.
Let's discover this magical proposal with Anthony's video: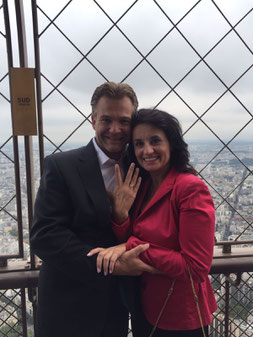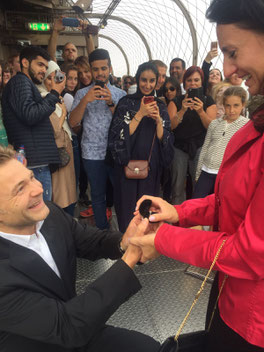 Thank you V & J for this beautiful moment, and this magical engagement in Paris!
Singer : Margot (Proposal & Elopement in Paris)
Video : Anthony Banse
Planning : Proposal & Elopement in Paris
........................................................................................................................................
You are preparing your proposal in Paris? We can help you to make your dream come true! With music as the special ingredient, I will help you to create a beautiful moment, by singing before you propose. A wonderful location, a singer and your loved one: the perfect celebration of your engagement!